It has been raining a lot in Singapore and I can't help but be reminded of the wet weather experience we had at Ocean Park during our Hong Kong trip in November. We spent almost a week in Hong Kong and the weather was perfect, except that it rained the entire day in Ocean Park, right from the minute we set foot on the theme park! *Grumbles* Hahaha. It was too late to make any changes to our plans so we decided to just embrace the cool weather and have fun!
While researching for our trip, I found out that the MTR South Island Line opened in December 2016 and there is direct access to the park entrance if you alight at Ocean Park Station. Super convenient and it's only 3 stops away from our hotel!
Besides the convenience in travelling, we also got our admission tickets and fast passes via Changi Recommends! Basically, you can get everything covered just by visiting the website! Changi Recommends offer good deals on connectivity (WiFi and SIM), transport, and activities, etc! Getting our Ocean Park tickets before our trip is definitely a good decision as there are huge money savings and most importantly, we saved time without having to queue for our tickets at the park.
Entering the park with our e-Tickets was a total breeze too, as we simply had to flash our phone to get the QR codes scanned. Alternatively, you may also print the tickets on A4-sized paper 🙂
Although Ocean Park offers complimentary WiFi, we found that it was a little unstable (not sure if the rainy weather played a part? haha) and we got disconnected at times, much to our frustration. Good thing we had our WiFi router which we had loaned from Changi Recommends! In fact, staying connected throughout our holiday was vital as we often had to seek information online as well as update my social media pages with photos of our trip! Hehe.
Ocean Park is really huge and it's basically divided into The Summit (highland) and The Waterfront (lowland). I also highly recommend going for the Ocean FasTrack as it gives you priority accesses for designated rides and attractions. It's kind of like a fast pass and we managed to beat the queue for the Ocean Express!
The Summit features all the crazy exciting rides that you can think of and they are definitely not for the faint-hearted! Needless to say, we did not go for any of these rides because we weren't up for it, plus it was raining! Also, Little misschewy did not meet the minimum height requirement for all the rides there. LOL.
The restaurants were all packed because it was lunch time and everyone was seeking shelter, so we decided to stop by a food kiosk for a quick bite instead. The giant turkey leg was so juicy and delicious!
Since we are already at The Summit, we checked out the Ocean Theatre where there was an animal fun talk on seals.
Took the Ocean Express back to The Waterfront and both girls fell asleep because it was their nap time.
Again, we managed to skip the queue at The Grand Aquarium, thanks to our FasTrack band which was worn around our wrists!
Time for a snack!
This is one of the mascots at Ocean Park but I can't remember his name. Haha.
Each time we passed by the mascot meet and greet booth, we would take a photo with the various mascots on duty. Lol! Super cute can!
Don't have to worry about getting hungry as there are plenty of food kiosks and restaurants scattered all over Ocean Park.
Whiskers Harbour has up to 11 attraction rides that are more suitable for young children of Little misschewy's age.
Hahaha just to make sure that Little misschewy is eligible for the Frog Hopper ride.
Totally clueless before the ride lol.
The hubs and I were really evil because we kept laughing when Little misschewy got frightened and buried her face in her hands.
On the Balloons Up-Up-And-Away ride! It's actually a mini ferris wheel that moves really really slowly. Haha.
Make sure you stop by Whiskers Theatre to catch the Ocean Heroes!
It is very meaningful as you will get to learn about ocean conservation through the songs and dances. Although the songs were in Cantonese, we could get the message through their wonderful performance.
There are a number of baby care rooms in Ocean Park so it shouldn't be an issue if you want to feed your little ones or have his/her diapers changed.
Finally it was time for our cable car ride! It is another must-do at Ocean Park! The kids loved it so much!
This place is like a mini Chinatown. Very good for photo ops!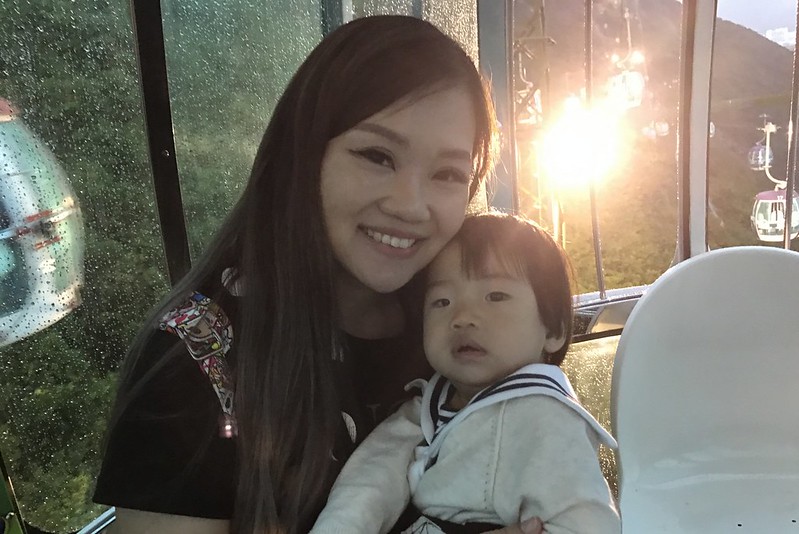 There are a few game stalls so if you are feeling lucky, do give it a shot and win some prizes!
We actually stayed till closing time! Can't wait to revisit Ocean Park when the kids are slightly older and of course, thank you Changi Recommends for the awesome experience!